This October, Little Assynt Tree Nursery celebrates its tenth anniversary with tea and cake.
On Friday 28 October from 1pm-4pm visitors are welcome to find out more about the role of the nursery, have a look around and a chat over a cup of tea.
Josie Gibberd, Tree Nursery Assistant shares a snapshot of what has taken place in the past decade.
The tree nursery was set up ten years ago as part of the Coigach and Assynt Living Landscape Partnership to provide local provenance trees for woodland planting projects in the surrounding area. Over the past decade we've grown over 300,000 native trees including oak, birch, rowan, hazel, Scots pine, juniper, dwarf birch, holly and wych elm. We also grow a few other woodland plants such as honeysuckle and primrose.
The nursery started out life as a field, and, with the help of volunteers, local partner organisations, and some pigs (who helped tackle the rough ground), it has now grown to three polytunnels, a mesh tunnel and various outdoor growing beds and stands of cells. Some of the trees that were first planted in a shelter belt are now three metres tall and often bustling with bird life, such as wrens, long-tailed tits and the occasional bullfinch to name a few. Our sheds are home to a nest of swallows every year and, often, a wasp nest or two, who thankfully are usually very well-tempered.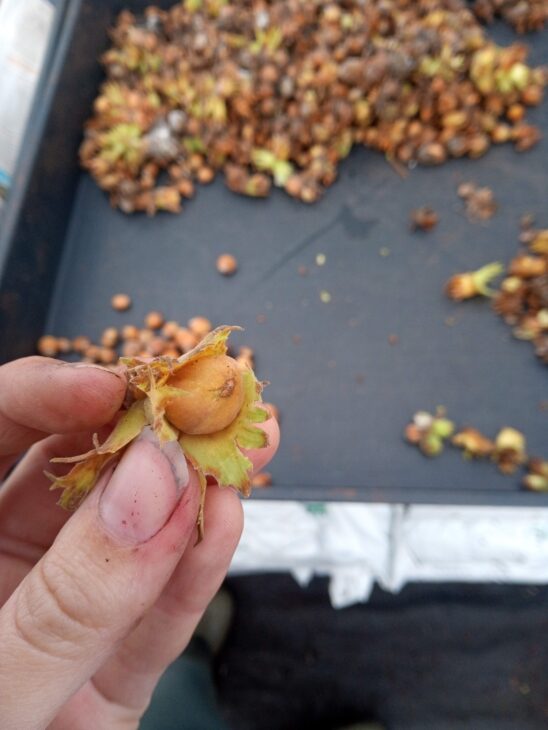 We collect all our seed and cuttings locally with a small team of lovely volunteers. Trees grown at the nursery have gone on to find their forever homes in the surrounding Coigach and Assynt, as well as some further afield, out in the Western Isles.
We'd like to say a huge thank you to all the organisations, individuals, volunteers and staff who have worked to establish the nursery and to support us in our work over the last ten years. Here's to many years more!
If anyone is interested in volunteering with us you can reach us on 01571 872010, or email [email protected].