It has been the same for as long as the game has been played. Talk up a fly-half for his dash and vision and someone with big hands and a crooked nose will take a long sip from his pint before putting you straight. Back in the day the words "fancy dan" or "luxury item" might have been used. Now it will be "gameplan" or "defensive solidity" or some other mood-dousing excuse why talent, on its own, is not to be trusted.
In the late 70s and early 80s in Ireland, for example, you were either a Tony Ward or an Ollie Campbell fan. Both were wonderful players but only one of them could start. It was a similar story when England had to choose between Rob Andrew and Stuart Barnes. Roundheads v Cavaliers. Glass half- empty or half-full. After a while it becomes less a sporting debate than a soul-baring symbol of your entire personality. A Finn Russell man? Thought so.
In some ways it is reassuring this still matters so much to so many. It is certainly among the reasons why rugby remains relentlessly fascinating. In cricket and football such arguments can be fudged more easily. Just slip so-and-so down to four or play matey boy a touch wider. In rugby it is occasionally possible to shift one of your main playmakers out to 12. Everybody still knows, though, that the man wearing 10 is first among equals.
So come on down Owen Farrell, Marcus Smith and George Ford. All of you are unusually gifted. There is just one problem: however well you play there will be millions of people convinced someone else would have done it better. Among them, unfortunately, is the England head coach. Never mind winning on Saturday, getting in the starting XV is quickly becoming even harder.
Perceptions can also change rapidly. As recently as last autumn Gregor Townsend seemed intent on picking anybody except Russell to wear 10 for Scotland. Now, if a Lions Test team was playing on Saturday, Russell would be most people's pick to start there. Scotland may or may not beat Ireland on Sunday, but they would not swap their mischievous baton-twirler for anyone.
Which is why England have a dilemma that extends miles beyond the result of Saturday's "Le Crunch" (copyright all media outlets) against France at Twickenham. Everyone knows selection is not solely about talent. The balance of the team, the opposition, the weather, the tactics and recent form all have to be factored in. Above all other positions, though, fly-half is the position that displays your level of intent. And with the game starting to edge back towards creative "quarterbacks" who can make the unexpected happen, this increasingly matters.
Pick a 10 whose first instinct is to kick it long and often and other teams will know exactly what is coming. Pick a 10 reluctant to stand flat to the gainline and, again, your options shrink. The best 10s keep the opposing midfield guessing with their variation, guile and speed of thought. Dan Carter seldom dummied his way straight through other Test teams, but, because of his range of skills, he put crucial doubt in the minds of others and created extra space as a result.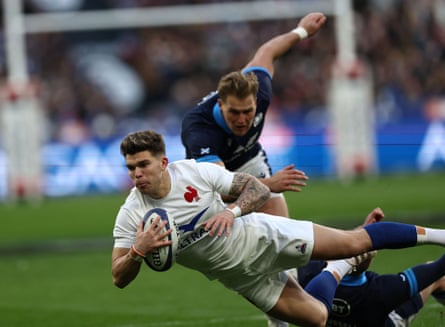 France, ironically, have a similar dilemma. Romain Ntamack, still only 23, is a top operator but his contemporary Matthieu Jalibert, just three months older than Smith, might be even classier. Attempts have been made to play them at 10 and 12 but Jonathan Danty, when fit, is the established first choice inside-centre. After a couple of so-so French away performances in this Six Nations, it might not be the worst moment to invite Jalibert to plug in his guitar this weekend and let rip.
Steve Borthwick, to date, has gone the other way and made Farrell his captain. Everyone knows what you get from Farrell. What a warrior, what a competitor. As his one-time England scrum-half partner Danny Care put it to a few of us at the weekend: "It's hard to not pick Owen … he's that good of a leader and he drives everything."
But Care also saw Smith at first-hand against Exeter at Twickenham on Saturday and can spot sheer brilliance when he sees it. "If he keeps performing like that you can't ignore him. I'm not the coach but I think you've got to go and attack a French team. I don't think you can sit back and kick everything. I'd be picking a team that can play quickly and play aggressive rugby. If I was the coach he'd be in my team."
If England's pack was currently equipped to grind its way to World Cup glory this autumn, Farrell might just be your man. But at some stage Borthwick's team will have to offer slightly more. We still do not really know, either, how England would go if they really backed Smith to call the shots at 10 with a straight-running 12 option outside him.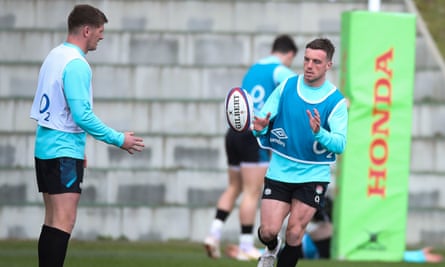 It is a complex dilemma and it remains impossible to please everyone. Tactically, a fit-again Ford is never to be underestimated either. But sometimes, in rugby and life, it pays to trust the evidence of your own eyes. If it looks, finds space and kicks like a world-beating fly-half, the chances are it is one. That's how Smith looked on Saturday, to the point where England should be building their entire future around him. End of.