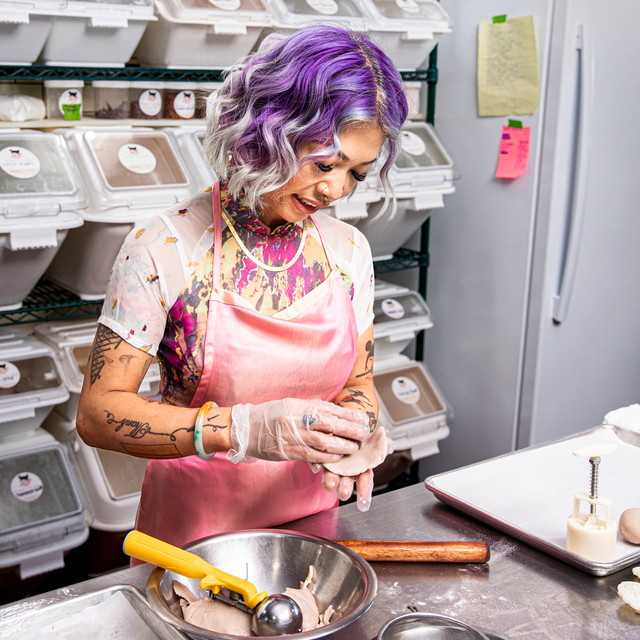 Courtesy
You can pretty much thank Portland for your city's food scene. Food truck parks? Check. Micro-restaurants? Yep! Craft breweries? All *so* Stumptown. In fact, the city is already cranking out the next culinary crazes, and you can either wait 10 years for your city to open an ube-latte shop, or you can book it to Portland right this very second. Here's where to eat once you arrive.
Advertisement – Continue Reading Below
1
Best for Innovative Lattes: Portland Cà Phê
In a place that practically invented craft coffee roasting, this Vietnamese specialty shop still stands out—and not just for its colorful concoctions. Sure, the ube latte—purple, nutty, and vanilla-y thanks to homemade yam syrup—is a showstopper, but it's the coconut cream latte that pairs best with the sweet guava doughnuts from HeyDay bakery that are sold on-site.
2
Best for Feed-Good Fare: The Realm Refillery
By now, you know that ordering your takeout "waste-free" is the most Portland flex ever, but this store takes it a step further. It has eliminated unnecessary plastics and food waste and gives shoppers glass jars or compostable bags to fill with local treats like orange sea salt caramel popcorn from Poplandia or loose-leaf tea from the Jasmine Pearl Tea Company.
3
Best for Plant-Based Snacks: Mama Đút
You'll need to arrive early to nab takeout from this popular spot (you maybe already know it from a little show called Street Food on Netflix?). Chef Thuy Pham's banh mi are filled with vegan "pork" and her bao buns are drizzled in garlicky "phish sauce," but it's her pandan strawberry whoopie pies that'll end up on your IG Story.
4
Best Family-Style Experience: Kann
Prepared-to-be-shared dishes like coffee-rubbed smoked beef ribs are a nod to chef Gregory Gourdet's (yes, that Gregory, from Top Chef) Haitian heritage. Advise your group not to skimp on the sides (say it with us: "More pikliz, please!") and to also save room for Gourdet's famous flame-kissed pineapple-upside-down cake.
5
Best Place to *Not* Get Buzzed: Fools and Horses
The ultimate irony at this vintage-vibes cocktail bar is that some of its best drinks would have been legal in the 1920s. And no one obsesses over the details of a mocktail more than these bartenders to. You won't even notice the lack of booze because you'll be too busy trying to figure out what the tasty "white miso horchata" actually entails.
6
Best Fine-Dining Food Cart: Poppyseed
This town is home to *plenty* of innovative food carts, although even the trendiest taco truck can't compete with the upscale seasonal options coming out of this fancy Hinterland-based trailer. You'll feast on dishes like oysters on the half shell before emptying your reusable plate at the compost station, because #Portland.
Advertisement – Continue Reading Below